In Woodstock, Ohio in Champaign County women from all around Ohio and neighboring states who make up a sort of traveling sisterhood gathered on the anniversary of the legendary Woodstock Music Festival in New York.
There's a 60's vibe going as women in tie-dye dresses and flowered headbands mill around a clearing in Woodstock, celebrating the anniversary of the legendary music festival. But this isn't New York, it's Woodstock, Ohio, a small town in the rolling countryside east of Urbana.
Rorie Dingey is the owner of this private campground, and a member of Sisters On The Fly, a women-only outdoor adventure group, with over ten thousand members. She's sister 6522, and says about the group, "We accept everyone just as they are, and it truly happens with these ladies."
Rorie has been planning this campout for over a year, connecting the 60th anniversary of the festival to her rural Woodstock, Ohio location. She's planned 60's themed crafts like the head bands the women are wearing, tye-die, and bamboo wind chimes. The women were also free to explore the local area on their own, and do their own thing at the gatherings. That's the beauty of the sisterhood, everyone is free to do their own thing at events.
"And there's a lot more undercurrent to that," Rorie explains, "It's wonderful. I've found my tribe. It's a real feeling of piece down and empowerment up. You know? It really is."
Rorie takes me around her campground, where we meet Candy McDowell who is playing cards in front of her 1968 Nomad white and green camper.
"Her name is Frankie and she is 16 feet long," Candy tell us, "I was obsessed with vintage campers for a little while, even before I had one, and so right about the time I found my first camper, I was just googling things about vintage campers and that's how I found Sisters On The Fly. That was about 4 years ago."
While many women here have really cute vintage campers, it's not a requirement – there are plenty of tents and modern campers here as well.  In fact, there are only a few rules to the Sisterhood. In addition to being 21 and over, the only rules are – No men, no kids, no pets, be nice.
"You can be with like-minded women, just having fun and enjoying each other's company," Candy says, "or you can have some quiet time in your own space, relax, chill out, and everybodies fine with that. We have so many different kinds of women here that no matter where you are no matter what little group you find yourself at having a conversation, it's relaxed and it's funny and welcoming and it's open. These are the best women ever."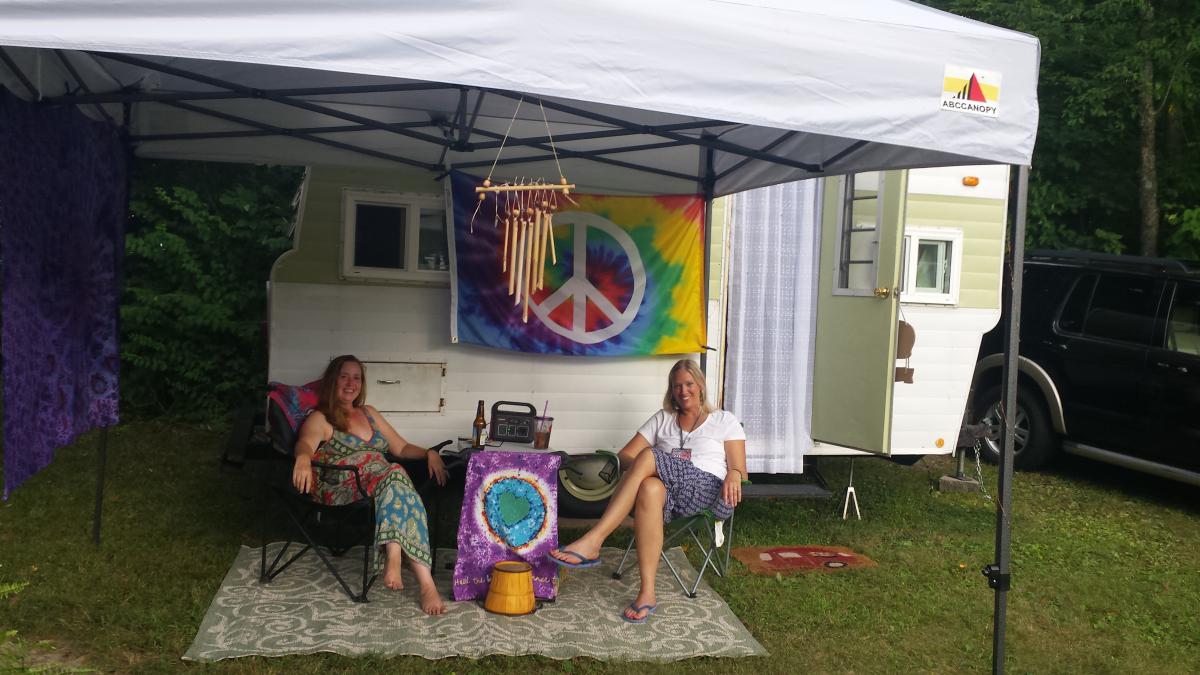 Farther into the campground, a group of women are kicking back in lawn chairs shooting the breeze. Phyllis Sparks is sister 10518, you can tell by her number that she is relatively new. "I joined about a year ago," the former lawyer tells me, " I'd never been camping. I don't do camping. My idea of roughing was the Marriott without room service. And I came across, I think it was a Facebook video or something, and watched it, and I thought dang that looks like fun. They're actually doing things."
Sitting next to her, Carolyn Neeley recalls her favorite sister-on-the-fly trip. "This year I went to Assateague, Maryland to camp on the sea shore and see the horses," she says, "That was pretty awesome waking up to ponies clip clopping right next to your camper."
"Oh, Michigan," chimes in Anne " My sister and I learned how to fly fish!"
For Phyllis her favorite sister trip was to the Smokey Mountains for the synchronized firefly event. So it's a certain breed of fireflies that only come out the first two weeks of June, and they blink in synchrony. So they all blink at once and they're only found in certain areas. "It was the neatest experience of my life," exclaims Phyllis.
The organization doesn't list dates for their events on the website, only members can access that. Carolyn explains the reason for this is "A lot of us are single women on your own and it's the sisterhood, and this keeps it kind of secret. And everything's safe here. Everyone has a safe spot to go where you're not judged,  you're not worried about someone coming, and harming you or interfering with you're fun."
Phyllis adds "You don't have any predators because you're all women."
"There is such a thing as sister stalkers, and we have met them down in Gatlinburg," Rachel tells the astonished group of women, "It was a bunch of men and they were like, are you sisters, and we're like yeah? And they said we're sister stalkers."
"As a new person, you might be intimidated going somewhere with people you don't know, but they just open their arms up to you and make you feel so comfortable," Phyllis says,  "I think we're recognizing that we're doing things we wouldn't normally do, and I like that. We're getting out there and doing it."
At a recent Buckeye Bash event in Dayton, the sister's raised over $9,000 charity. Here at Woodstock, it's all about having fun and kicking back. Rorie and the sisters say they're looking forward to having the event again next year.
Laughing, the sisters tell me that the trips are all great, but some of them you just can't speak about. A sister adds, "What happens at the campground, stays at the campground," which send the sisters into peals of laughter.
By RENEE WILDE
Source Article: https://www.wyso.org